Home Restoration: Ten Tips for better remodeling or landscaping projects

(ARA) - For many homeowners, the return of warm weather signals that time of year to launch the long-awaited home remodeling or backyard patio project.
With the typical major kitchen remodel topping $58,000 and the cost of a new roof topping $21,000, according to the National Association of Realtors 2009 Cost vs. Value Report, taking on even a minor remodel calls for careful attention to detail.
It's even more important if you're not a do-it-yourselfer and want to hire a contractor to perform some or all of the work, says FindLaw.com, the world's leading online legal resource. Doing your homework upfront and being crystal clear in your dealings with a home remodeling or landscaping contractor will reduce miscommunication, frustration and expensive errors.
If you're ready to take the plunge, here are some time-tested tips from FindLaw.com for a better remodeling or landscaping project:
1.
Ask yourself: Does it make sense? Before you move too quickly, it's critical to determine if it makes sense to remodel. The first place to look is your neighborhood. Are other neighbors improving their homes and enhancing the exteriors of their homes, as well as their yards? Is your city or town properly maintaining streets and public areas? Are you committed to staying in your home at least five years? Remodeling and landscaping can be expensive and, in many cases, you will not fully recoup your investment. While it's important to do it for yourself, be careful not to over invest either.
2. Do your homework. Before you call a contractor, do your homework to get a good idea of what you want from your remodeling or landscaping project. Visit showrooms, talk to friends and neighbors who have recently remodeled, read home and landscaping magazines, and visit open houses and showcase homes to see what's hot in home remodeling and landscaping projects. Start a notebook to collect your ideas, product information and product samples.
3. Build a budget. As you do your homework, start piecing together a budget of what various products and materials may cost. Keep in mind, especially when remodeling an older home, there may be unexpected surprises (such as plumbing or electrical) that could drive up the costs of your remodeling project. To be on the safe side, always add 20 percent to the generally recommended costs of a remodeling project.
4. Listen to word-of-mouth. If you hire a contractor, make sure that any contractor that you consider is licensed, bonded and insured. Word-of-mouth is the most reliable method to finding a contractor. Ask your friends, neighbors or family members for the names of contractors or landscapers with whom they've worked.
5. Get multiple bids. Always get at least three proposals when selecting a contractor to handle your remodeling or landscaping project. Always meet the contractor in person and never agree to hire a contractor after your first meeting. Obtain all estimates in writing and carefully compare the details that each contractor has spelled out in his or her proposal.
6. Check your permits. Be wary of the contractor who says you don't need to pull a permit from city hall for your remodeling or landscaping project. A permit typically represents the minimum construction standard set by a local community. In other words, a permit actually protects you as the homeowner from shoddy construction or landscaping practices. If you live in a historic neighborhood, there may be more restrictive guidelines that you must follow that have been set by a neighborhood council.
7. Get references. Before you say "yes" to a contractor's proposal, get at least three to five references from a contractor. Call the contractor's references and ask about the experience of working with him or her - did the contractor complete the project on time and on budget? Was the contractor responsive to making changes throughout the project and the completion of the punch list (all of the final details to wrap up a project)? Contact your local Better Business Bureau to see if any complaints have been filed about the contractor. And, contact building suppliers and subcontractors (electricians, plumbers, etc.) to see if your contractor pays his or her bills on time.
8. Get it in writing. Never, ever agree to hire a contractor, even if it's your brother-in-law, on a handshake. Always insist on a contract, says FindLaw.com. Be precise about exactly what services will be performed and by when. Specify exactly what products and materials will be used. Spell out when payments will be made to the contractor and clarify what recourse you have if the work is not completed to your satisfaction. If need be, contact an attorney specializing in contracts to review the document before signing.
9. Do a gut check. You need to feel good about having someone come into your home every day for weeks or possibly several months. Working with a contractor should be fun, but more importantly, you need a contractor who listens and responds to you. Check your gut reaction. If in any way you feel uncomfortable with a contractor, don't sign the contract. And if you have to, move quickly to cancel it. Many states allow a consumer to cancel a contract within three business days after signing it.
10. Be completely satisfied. Never pay for the entire remodeling project or landscaping project up front, before construction begins. In most cases, you'll put down 25 percent of the total project amount to get the work started. After that, you'll pay portions at certain milestones up until the completion of the project. Don't make the final payment until you are completely satisfied with the work. It's one of your last defenses to ensuring that work is completed to your satisfaction.
Compare quotes from Top Home Improvement Contractors in your area. Free Service!
.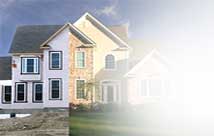 | | | |
| --- | --- | --- |
| | | Respond Home Improvement Directory lists the top Home Restoration Contractors in your area, organized by specialty and office location. |