Cabinet Refacing: Simple and chic bathroom perk-ups

(ARA) - Want a new bathroom, but think the price tag might be out of your budget? Don't give up so easily. Many simple updates and unique products can give you a custom-designed look on a bare-minimum budget.
"Consumers today are looking to 'remodel lite'- that is, refresh a room with only a few items and with a minimal investment," says Jack Suvak, director of market research and insights at Moen. "But at the same time, they want their home improvement project to make a significant impact on their home, in terms of both style and functionality."
To avoid becoming overwhelmed, break your bathroom up into smaller sections and projects.
By thinking of your space in these smaller sections, goals will become more attainable.
Storage and space
While you can't easily add more square footage to your bathroom for extra storage, little things can make a difference. Adding new accessories, such as a towel bar, towel bar hooks, a towel ring, shelves and robe hooks can easily and inexpensively provide additional space and storage for your necessities ... and add a bit of style.
"You can change the look and functionality of your bath for less than $100 just by adding accessories," says Tim Bitterman, group marketing manager of Creative Specialties International, the accessories division of Moen Incorporated. "With designer finishes, such as brushed nickel and oil-rubbed bronze - and unique accessories, such as hotel shelves or new towel bar hooks - your bath can be more beautiful with more useful storage in no time."
Moen recently introduced several new accessory collections, such as the modern Method collection and the more transitional Sage collection in an oil-rubbed bronze finish. But no matter what your style - bath accessories will add a beautiful and functional update.
Color
After focusing on new finishes for your accessories, take your bathroom from blah to beautiful with a splash of color. Cool colors can create a calm, serene environment, while darker colors can be warm and inviting. And once you've updated the walls, consider perking up the cabinets, trim and hardware with a touch of spray paint for a final finished look.
Sensational showers
Your shower can be many things - rejuvenating, cleansing, soothing - but it should always be enjoyable. Add more space in the shower with a curved shower rod. Switching from a straight rod to one that curves outward can add up to 7 inches of elbow room - not to mention immeasurable style. Next, finish off your shower with a multi-function showerhead, such as Moen's Inspire (a "best buy" from a leading consumer magazine) or Home Care by Moen's hand-held shower with innovative palm grip. Soon you'll be singing a happier tune in the shower.
Soft and subtle touches
The bathroom is filled with hard, slick surfaces - so be sure to add a variety of plush, soft accents. Fabric shower curtains, window valances, rugs and towels in coordinating colors will be the final finishing touches for a chic and appealing look in your newly "remodeled-lite" bath. For more information about Moen bath accessories or showerheads to begin your bathroom update, visit moen.com or call (800) BUY-MOEN (800-289-6636).
Courtesy of ARAcontent.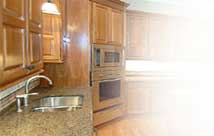 | | | |
| --- | --- | --- |
| | | Respond Home Improvement Directory lists the top Cabinet Refacing Contractors in your area, organized by specialty and office location. |