Window Replacement: Projects that reduce your energy bills

(ARA) - Once spring arrives and the daffodils begin to bloom, your old front door may look pretty drab. Still, many consumers may avoid home improvement projects because of a reluctance to spend money in a questionable economy.
As many as one-third to one-half of consumers expect to stick with money-saving strategies even after the recession ends, according to Retail Forward, a retail-consulting firm. However, this could be the season when homeowners can have it all.
"Today, homeowners are still focused on getting the most for their money," says Kathy Krafka Harkema, Pella Windows & Doors spokesperson. "Home improvement projects can add to the look and comfort of your home, and help reduce monthly utility bills to help make the most of your hard-earned money."
A new study from Pella Corporation finds plenty of items in homes across the country calling for attention. According to the survey conducted by Kelton Research, almost two-thirds of U.S. homeowners admit they have a major item in their home that needs some maintenance. In fact, the average American has five items that need to be repaired or replaced.
In many cases, items on the "to-do" list include replacing windows or doors. One way to update your home and help cut the maintenance of it is to revitalize your entryway with an energy-efficient, stylish new prefinished door. Decorative glass options featured in today's entry door systems can welcome in natural light and enhance the curb appeal of a home. Now's also the time to replace those worn-out windows and get the added benefit of energy-saving to keep your home warmer in the winter and cooler in the summer.
Try these cost-cutting tips when planning your home improvement projects:
Improve energy-efficiency, lower bills
If your home is overdue for new windows, consider replacing them with Energy Star products that can lower your energy bills by as much as 20 to 30 percent. For a typical home, replacing single-pane windows with Energy Star qualified windows can save $126 to $465 a year on energy costs, according to the U.S. Department of Energy's Energy Star Web site.
Many Pella windows and doors have earned the Energy Star. For greater energy efficiency, choose double- or triple-pane options and look for windows with low U-values, which measure the ability to resist the transfer of heat.
Another way to help reduce energy bills is to keep window blinds and shades closed during hot months to conserve energy and open on sunny days during cold months to let in solar heat.
Cash in on tax credits
Energy-efficient windows and doors can add to the comfort and appeal of a home - when properly selected and installed to help keep out air and moisture. Now's the time to replace drafty old windows or doors with more energy-efficient options. American homeowners may claim a U.S. tax credit of up to 30 percent (not exceeding $1,500) of the cost for qualifying energy-saving windows and doors installed in their home in 2010. Consult your tax professional to determine if your purchase is eligible for the U.S. tax credit.
For a complete list of qualifying Pella products, visit pella.com.
Replace windows and doors, keep the siding
Traditionally, when you replace windows and doors, you often have to replace existing exterior siding, adding thousands to the cost of home renovation.
If you're reluctant to install new windows or doors because of the cost to replace your siding, now you're in luck - a new installation method will help save time, money and enhance the look of your home.
Pella's new low-profile installation method allows you to replace existing windows and doors with more energy-efficient options all at once or as many at a time as your budget allows - and keep your existing siding. The innovative installation process works with wood, vinyl or fiberglass windows and doors, and in homes with vinyl, steel, aluminum, wood lap and cedar shake siding. To learn more, visit pressroom.pella.com and search for "installation."
Spare the paint
Another way to save is by eliminating the need to repaint windows and doors. Quality vinyl or fiberglass products are low maintenance and can increase your home's energy efficiency. Factory-assembled vinyl or fiberglass windows and patio doors don't need additional painting, staining or refinishing.
Another timesaving option is choosing factory prefinished wood, fiberglass and steel entry doors. Factory prefinishing saves finishing time for windows - a significant time and cost savings for homeowners or contractors.
2010 is shaping up to be a year of cautious optimism. With careful planning, home improvements can be made cost effectively to help add to the overall look, energy performance and enjoyment of your home.
Courtesy of ARAcontent.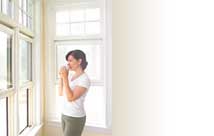 | | | |
| --- | --- | --- |
| | | Respond Home Improvement Directory lists the top Replacement Window Contractors in your area, organized by specialty and office location. |