Trim and Moulding: Choose a paintbrush-free and colorful trim for your house

(ARA) - Advanced, colorful exterior trim is conquering several roles, distinctly benefitting time-squeezed homeowners and letting them lock away the paintbrush. Trim has historically provided homeowners with a basic solution, delivering a cleanly-finished look, often with white accents. Now, innovations are increasing both the aesthetic and functional value of trim, bringing more appeal, durability and home protection to areas such as windows and doors, and corners and fascia.
From welcoming porches to distinctive gables, IQm Trim brings added flair, in a wide spectrum of 17 colors that leads the way with the cellular PVC trim industry's only comprehensive color selection. The curb appeal also comes without ever having to paint, giving homeowners more quickly completed projects and maintenance-free exteriors.
While most other trim manufacturers are limited to white and a version of beige, IQm's animated shades such as Dusty Blue, Sagebrush and Cabernet can add attractive personality.
Colors like Castle Grey and Antique Cream bring subtle, classic sophistication.
What might make the biggest impression is that the trim never needs painting. There's no need for any elbow grease - no priming, scraping, taping up or scrubbing down white vinyl to prep for any paint. There's no need to worry over warping or rotting wood trim, or having to scale a ladder to paint second-story trim.
Such maintenance-free color liberates busy families and baby boomer homeowners from tedious, costly tasks.
IQm does offer realistic wood graining along with a low-gloss finish. Backed by a limited lifetime warranty, it has a protective acrylic cap to resist scratching and fading. It won't peel, flake or blister, whereas painted wood can flake within a year.
When it comes to water management, IQm also has a unique feature. Its AquaFlex fin helps protect a home from moisture damage, channeling water down and away so it can't intrude behind siding panels and cause potential problems like mold and rot.
A deep J-channel helps deliver clean looks and fast installation, keeping cut panel edges and excessive caulking hidden from view. IQm is also color-through, ensuring uniform color even with imperfect miter cuts.
"We wanted to give both design integrity and real choice to homeowners who know there's a world of color possibilities to match their style," says Jonathan Wierengo, director of marketing for The Tapco Group, maker of IQm. "Whether a homeowner may want a second color for a warmer facade, or a fifth one for more expressive style, IQm instantly provides no-fuss, enduring curb appeal."
IQm Trim Boards is a division of The Tapco Group, a U.S. Green Building Council member. For more information, visit www.IQmTrim.com or call (888) 289-1169.
Courtesy of ARAcontent.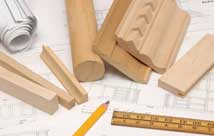 | | | |
| --- | --- | --- |
| | | Respond Home Improvement Directory lists the top Crown Moulding Contractors in your area, organized by specialty and office location. |