Tile Work: Eco-friendly solutions for updating your kitchen and bath

(ARA) - The bathroom and the kitchen - are there any other rooms that see more traffic? Whether it's battling family members for mirror space on busy mornings or milling around the stove as dinner cooks, they are the two rooms that are guaranteed to get the most use. Naturally they should be functional and good-looking, but more and more, people are demanding that these high-traffic spaces also be environmentally friendly.
Baths and kitchens are also two areas where remodeling can yield the best return on investment. If you're selling a home, they can add exponentially to its value, or take away from it if they're not up to date. But in a difficult housing market, it's a popular option to do renovations for personal enjoyment - not just for potential buyers.
And with the proliferation of green products on the home design market, it's easier than ever to make earth-friendly choices.
One of the major determining factors in the style of kitchens and bathrooms is the tile used on floors and walls. It can shout "out of date" like few other things can. But new tile can be instantly transformative, bringing a room into the here and now. The good thing is that tile is an environmentally friendly material and new advances in manufacturing technology are enhancing these sustainability benefits.
To start, tile offers supreme durability and a longer lifespan than most floor and wall coverings. Unlike wood that rots and needs refinishing, or carpeting that loses its pile and shows wear, ceramic tile lasts up to four times longer.
It offers a hard-to-beat hygienic factor. It's chemically inert so no germs can live on the surface and warm water and neutral cleaners are the only cleaning products required. This easy maintenance contributes to consumer cost savings over the life of the installation. Additionally, ceramic tile does not contribute to the level of toxic products being flushed into our ecosystem such as chemicals, soaps, shampoos, waxes, strippers and solvents.
By design, it isn't an original or secondary source of pollution as it repels allergens and will not absorb odors like smoke or paint fumes. It releases no fibers, gases or toxic by-products or volatile organic compounds (VOCs).
Adding new tile used to be daunting: tearing through old layers, hauling the demolished tiles to the dump, dealing with the dust and mess. But not anymore. At half the width of regular tiles, new slim tiles like those from Tile of Spain branded manufacturers are thin enough that they can be applied right over existing tile, offering a whole new look to walls and some floor areas.
At a mere 3 to 6 millimeters, slim tile is easy to cut, handle and saves time in installation without compromising quality. These trim counterparts meet all the characteristics expected of ceramics including supreme resistance to abrasion, chemicals, stains, frost and other weather extremes.
Environmental benefits are gained when fewer raw materials are used and maximum energy savings are realized during manufacturing. This reduces CO2 emissions and pollutant substances. Lighter weight also means less of an environmental footprint left in shipping. And because there is no need to tear out and throw away old tile, homeowners avoid the inconvenience of rubble during building work and no new waste is added to the landfill.
For more information on eco-friendly tiles, go to www.spaintiles.info.
Courtesy of ARAcontent.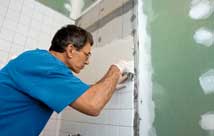 | | | |
| --- | --- | --- |
| | | Respond Home Improvement Directory lists the top Tile Contractors in your area, organized by specialty and office location. |