Siding Installation: You can do that with vinyl siding?

(ARA) - With the economy making a slow rebound, homeowners continue to look for cost-effective options when building or renovating their homes. Natural exterior building materials are often very expensive and require both time and money to maintain. Choosing vinyl and polymeric siding is one way people are saving on building materials. Both siding options, which many considered at one time to be fake-looking or boring, have become one of the most versatile, detailed and eco-friendly home exterior products available on the market today.
Throughout the last few decades, vinyl cladding products have evolved from simple, smooth, non-engineered panels without much detail, to now include hundreds of colors including dark hues, engineered features that drastically improve on-the-wall performance, and computer digitized wood grains from real wood to create authentic-looking accents and profiles such as shake, shingle and scallops.
The ability of manufacturers to create natural-looking products that can be customized for a wide range of home styles means that homeowners in every part of the country can find a style that suits them.
"Vinyl products are available in so many colors and styles that they really suit any taste," said Deryl Patterson, partner at BSB Design, the nation's leading residential architectural firm serving clients nationwide. "More and more people are switching to vinyl siding and accessories as they look to personalize their homes with vibrant colors and detail, and save money during construction and throughout the life of the product."
Vinyl siding is not only less costly to install than natural wood; it also requires little maintenance and no painting throughout its lifetime, which saves homeowners time and money. Insulated siding is also now available from top siding manufacturers, which can save homeowners on heating and cooling costs as well. Polystyrene foam insulation can increase a wall system's R-value and boost heat transfer performance up to 25 percent, significantly cutting down on the energy needed to heat or cool a home.
Manufacturers have also created low-maintenance exterior finishings including window trims, shutters, gable vents, mantels and dentil moldings to complement your home's exterior. Ply Gem is one company that is leading the charge in creating a large portfolio of low-maintenance, sustainable and stylish options for homeowners.
"The products that Ply Gem offers allow eco-conscious homeowners to create beautiful, custom homes with value in mind that reflect the homeowners' personality," said Jerry Blais, vice president, marketing, Ply Gem siding group. "Ply Gem has a wide array of siding colors and profiles, insulated siding options, accessories and designer accents that fit perfectly together and create unique solutions. And, because we also offer Ply Gem Windows, Ply Gem Stone veneer, and fence and rail solutions, you can get all your low-maintenance renovation products from one provider."
The expanding accessory offerings, eco-friendly attributes and hundreds of color options help vinyl siding match personal taste and complement mixed exteriors. Home exteriors that have multiple cladding products on them are known as designed exteriors, and this concept is one of the fastest growing building trends in the U.S. Deeper earth tones and darker colors are becoming more prevalent, especially when paired with stone veneer or brick sections of a home.
"In the future, we will continue to see the details of vinyl siding and accessories be enhanced," said Patterson. "Manufacturers have come a long way by adding colors and profiles, but now we're seeing more attention paid to the intricacies and details that make it very authentic. The possibilities with vinyl siding are endless."
For more information about the attributes of vinyl siding, visit www.plygem.com, and check out www.bsbdesign.com for ideas on personalizing your home with vinyl siding.
Courtesy of ARAcontent .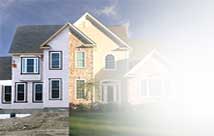 | | | |
| --- | --- | --- |
| | | Respond Home Improvement Directory lists the top Siding Contractors in your area, organized by specialty and office location. |