Siding Installation: Winter-proof your home this fall for year-round benefits

(ARA) - After a summer of record-breaking temperatures across the country, you may be wondering if the impending winter weather will be just as extreme. While harsh weather puts a strain on wallets with increased energy bills, it can also be damaging to the home. Before the ice and snow hit, consider winterizing your home to help increase efficiency and minimize maintenance.
"From minor improvements to extensive renovations, homeowners can do several things to create a more comfortable environment, and at the same time, enhance the aesthetics and performance of the home," says Jerry Blais, vice president of marketing for Ply Gem, a leading manufacturer of home remodeling and building products.
Adding gutter protection is one small improvement that can make a big difference on a home during the fall and winter months. Gutter protection helps keep debris such as leaves, twigs and pine needles from clogging gutters, allowing water to flow freely and reducing the possibilities of ice damming.
If melting ice is unable to drain, it could seep into the walls and ceilings of your home. Certain gutter protection products also add strength to the gutter and create a strong resistance to high winds, heavy amounts of snow, ice, ladder damage and pest invasion. For an effective, low maintenance solution, ask your contractor for gutter protection with solid aluminum construction, such as Leaf Relief by Ply Gem.
For a more extensive winterizing project, consider renovating your home with insulated siding. Insulated siding is backed with a polystyrene foam insulation that can increase a wall system's R-value and boost the thermal performance of your side walls by up to 25 percent by providing a blanket of insulation. This helps reduce the impact of thermal bridging between your wall studs to minimize air leakage, significantly cutting down on the energy needed to heat or cool a home, and even reducing the effects of outside noise.
According to Pat Culpepper, president of Progressive Foam Technologies, Inc., a foam manufacturing company that helps leading vinyl siding manufacturers produce insulated-backed siding, the product has multiple benefits in addition to energy efficiency.
"Homeowners don't just want energy efficiency, they want their home to look better and they also want to minimize maintenance," Culpepper says. "With wider profiles than regular vinyl siding, insulated siding provides a true wood look, without the maintenance of real wood."
According to Culpepper, insulated siding is the only cladding product on the market that can actually save homeowners energy and offer payback down the road. Additionally, the foam backing makes it extremely durable, helping to prevent damage and denting from hail, high winds and even the accidental hit from baseballs or golf balls.
Beyond energy efficiency and durability, insulated siding is an exceptionally dry wall system, making it resistant to mold growth and deterioration due to moisture absorption. "In the 20 years that we have been manufacturing insulated-backing for siding, we have had zero water damage claims," says Culpepper.
Today's vinyl siding manufacturers offer insulated siding options at various price points and in an assortment of colors. For superior performance and a wide selection of coordinating design accents, Blais recommends Mastic Home Exteriors by Ply Gem Structure EPS. Options such as Napco by Ply Gem American Essence or Variform by Ply Gem CSL 600 also offer classic styling in up to 14 colors.
Visit www.plygem.com for more information on gutter protection, insulated siding and other home improvement products - including windows - that can help increase comfort and efficiency, minimize maintenance and add beauty this winter and year-round..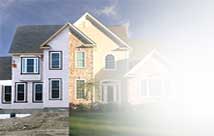 | | | |
| --- | --- | --- |
| | | Respond Home Improvement Directory lists the top Siding Contractors in your area, organized by specialty and office location. |