Siding Installation: Authentic cedar beauty enhances home value, lasts a lifetime

(ARA) For all the time-saving benefits that a durable home exterior can bring, homeowners never want to sacrifice curb appeal. Beyond that first requirement of a great-looking home, a growing number are focusing on features that give them back more time with maintenance-free living.
When it comes to the popular aesthetic of cedar siding, The Foundry is one siding choice that manages to create discerning authenticity with a design that requires virtually no upkeep - a combination unheard of to homeowners who have had to sand, scrape, stain or pry-off damaged cedar shingles.
The Foundry's exact look and feel of hand-split shakes and mill-sawn shingles are achieved by using scores of real cedar molds to infuse natural charm into premium vinyl siding. The combination of enduring vibrant color and charming texture generates distinctive appeal that can enhance any home's value.
Classic cedar style like this has historically come with costly maintenance, such as water repellants or wood stains lasting as little as one year before another cleaning and finish are needed. With wood, more than 20 gallons of finish could be needed each time.
In comparison, siding like The Foundry never needs finishing and comes with a limited lifetime warranty. Its wide spectrum of more than 40 colors ranges from Oceanside and Juniper to Keylime and Russet.
The Foundry's most unique colors make up the Weathered Collection, which can provide homeowners a completely distinguishing look. This siding uses a proprietary process that gives the appearance of cedar that has beautifully weathered over time. Different tonal qualities are created using a darker shade of color in the grain, and a lighter one on higher points.
With crisp contrast created in each Weathered shake or shingle, the effect captures a timeless essence and warm character. The Weathered Collection's 17 colors include new Red Cedar, which shows natural gold and brown tones and subtle undertones of pinkish-red. Other selections include rustic Cedar Moss and softly brilliant Coastal White.
In a whole-home application, Foundry shake or shingle panels make an eye-catching statement. They also combine beautifully with brick, stone veneer or fiber cement exteriors to bring added appeal. As an accent in gables, they provide architectural interest that draws gazes upward. The rich texture gains greater focus when set off by crisp trim or elegant columns.
In addition to their style benefits, Foundry siding is designed to stand all the tests of time. A special cap stock maximizes color appearance, so the siding's design and color keep their integrity through fierce storms and blistering UV rays. The Foundry delivers the highest possible fire resistance, Class I (A), and has also been tested to exceed a 170 mph windload. The Foundry is a division of The Tapco Group. For more information, visit www.foundrysiding.com or call (800) 771-4486.
Courtesy of ARAcontent.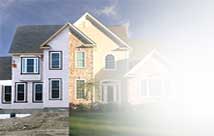 | | | |
| --- | --- | --- |
| | | Respond Home Improvement Directory lists the top Siding Contractors in your area, organized by specialty and office location. |