Room Remodeling: Before you begin a remodel, know how to score the best financing

(ARA) - Americans are learning to be frugal again, with more of us looking to spend less, and get more value out of the money that we do spend. That sentiment could well be what's driving the renewed interest in remodeling one's current home, rather than moving out and buying something bigger, better and newer.
Homeowners are most concerned about the functionality of their homes, according to a recent survey by the National Association of the Remodeling Industry (NARI). "The functionality of a home is very important, especially over the long term, as many homeowners in this economy have opted for remodeling over moving to new homes," NARI National President Paul Zuch said in a June 8 press release from the association.
If you're interested in increasing the value and livability of your home, remodeling might make sense for you. But before you begin hiring contractors, you need to do some basic prep work first.
How will you fund your remodel? Most homeowners will need to borrow against the value of their homes to pay for remodeling projects.
If a home improvement loan is in your future, your first step should be to check your credit score and report. Your credit will affect lenders' willingness to loan you money, and the terms and conditions they'll offer on the loan.
Knowing your credit score before you begin applying for financing will give you a better understanding of what terms you might be able to qualify for. The higher your score, the more desirable you appear to lenders. Checking your score in advance of seeking financing will allow you to work on raising it, if necessary. Or, it can help give you the confidence to negotiate the best possible deal for your renovation project. You can access your free credit score online at websites like www.freecreditscore.com with enrollment in Triple Advantage Credit Monitoring.
Once you're sure of your credit status, you're ready to take the next step - securing financing.
Just as there are many different types of renovations that will add value and comfort to your home, there are many ways to fund them. In an ideal world, we would all have savings sufficient to cover home improvements and still leave some money in the bank for a rainy day. In reality, most homeowners won't be able to pay cash for improvements.
For borrowers with desirable credit ratings, there are still plenty of financing options. You may opt to go with a straight second mortgage. Or a home equity line of credit (HELOC) may work for you if you've amassed equity in your home. The HELOC basically borrows against the difference between the value of your home (what you could reasonably expect to sell it for) and the amount you still owe on your current mortgage. You may also pursue a government-backed FHA loan.
You can find a variety of tools and information about mortgages at www.hud.gov. To obtain your credit score, visit www.freecreditscore.com.
Courtesy of ARAcontent .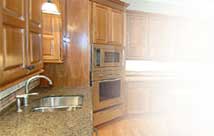 | | | |
| --- | --- | --- |
| | | Respond Home Improvement Directory lists the top Contractors in your area, organized by specialty and office location. |