Kitchen Remodeling: Simple fixes that will make your kitchen feel brand new

(ARA) - When it comes to your kitchen, details make all the difference. It's often the most used and best-loved room in the house, so having a room that meets your needs and expresses your personality is key. If your kitchen's design has been frustrating you by creating clutter and giving your home an out-of-date feel, it's time to make some changes.
The good news is that, because details carry so much weight, making relatively small adjustments can have a lot of impact without being prohibitively expensive.
One of the simplest changes you can make is changing the hardware on your cabinets, but this little move can completely alter the feel of your room. Whether your cabinets are minimalist, traditional or somewhere in between, you can give them a different spin by changing the finish or style of your cabinet knobs and handles.
Right now, trends are leaning toward softer, muted finishes like oil-rubbed bronze and brushed nickel. The Aspen line from leading decorative hardware maker Top Knobs is available in wide variety of styles, whether you're looking to change the cabinet hardware in your kitchen, bath or on your closets.
"While it used to be that rubbed bronze was used in rustic, cabin-like settings, it's now being used in a wider variety of kitchen styles," says David Tyler of Top Knobs.
"When it's styled in a contemporary way, it completely changes the effect and it can be used in kitchens that range from transitional to modern."
No matter what kind of decor you have, pay attention to quality. It's easiest to gauge this if you can feel and see the products in person. While you can go to a show room to test things out, Top Knobs also sends out free samples of its solid, hand-finished metal drawer knobs and handles. You can place a sample order through their website, www.topknobsusa.com, and in a couple of days, you'll be able to try out new cabinet hardware right at home.
If your cabinets have started to feel dated, it might be time for a complete change. Sleek, modern cabinets with subtle details are growing in popularity, but many homeowners are choosing to combine elements of traditional style with newer developments for a look that is both clean and comfortable.
Cabinet colors are proliferating, giving you more choices. Today, if you want cherry cabinets, you can choose from an array of warm, rich tones instead of only having one option. For those looking for a fresh, light feeling in the kitchen, white cabinets are still the go-to solution.
It's OK to get a bit more creative with the color of your walls, letting them say something about you. When making paint choices, look to color forecasts. This year, it's all about tones found in nature, from the bold (coral, turquoise, bright yellow and red) to the soft (blush pink, muted greens and soft browns).
Again, it's important to see how things will look in your house, so use cabinet and paint samples offered by many retailers. The light in your home could cause the color that won your heart in the store to look totally different.
Perhaps the quickest fix of all, and one that you can make today, is to clear clutter. When too many gadgets crowd your counter tops or papers collect on the fridge, the space can feel chaotic. If you need to rearrange the contents of your cabinets to find storage space, make a weekend project out of it.
While you're doing the re-arranging, look for items that you can do without and set them aside for a yard sale or donation to a charity. The ultimate luxury of having more storage space will mean more than having a gadget you use once a year. When things are all in their right places, you can tackle the next step in reviving the look of your kitchen.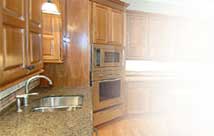 | | | |
| --- | --- | --- |
| | | Respond Home Improvement Directory lists the top Kitchen Remodeling Contractors in your area, organized by specialty and office location. |