Insulation Services: The perfect energy-saving DIY home improvement project for fall

(ARA) - When it comes to do-it-yourself projects that will save money on energy costs, there are many new products on the market that make it possible to save hundreds of dollars over time, with just a few hours of easy installation.
Few of these products come close to the long-term benefits of installing radiant barrier foil in your attic. There's even a federal tax credit (available on your 2010 federal tax return) to help you recoup up to $1,500 on your purchase price through the American Recovery Tax Credit.
As temperatures drop, installing a radiant barrier in your attic space becomes much more comfortable. When warmer weather returns, you can relax without having to turn on the air conditioner as often and as a result, enjoy reduced cooling costs. That's the main benefit of installing a radiant barrier, according to Rick Jordan of EcoRite Products, a major radiant barrier manufacturer.
"I don't know of any product that is this easy to install that does as much for reducing the stress on your cooling or heating systems as a radiant barrier," Jordan says.
"On average, attics that have radiant barriers installed are 30 degrees cooler than they were before the product was installed. That equates to a significant amount of heat that is not baking down through the ceiling of a home, causing the air conditioner to stay on longer and work harder."
A radiant barrier works in your home similar to the way a reflective foil car shade works in your car. Just as a car shade keeps the interior of an auto cooler when it's parked in the sun, radiant barriers keep your home's interior cooler when installed in your attic where the sun's radiant energy is absorbed.
"Enerflex looks a lot like quilted aluminum foil. It is made of a durable, highly reflective, double-sided metallic film that you install to the underside of a roof between the rafters. From an installation standpoint, it couldn't be easier," Jordan says. "There is no need to secure the product with adhesive, so installation moves quickly."
"Radiant barrier installation should be viewed not so much an expense, but as an investment. Homeowners are repaid over time through lower utility bills, particularly in the summer, but wintertime savings can also be realized," Jordan says.
In the winter, a radiant barrier basically performs in reverse, helping to keep rising heat from the home's interior from escaping through the roof. Radiant barriers typically are twice as effective in the summer months as in winter months.
Enerflex Radiant Barrier is mold- and mildew-resistant, will not harbor insects, and is Class A fire rated. It's available from building material dealers nationwide. You can find places that sell the product by visiting www.enerflexfoil.com.
The Florida Solar Energy Center has conducted numerous studies on radiant barrier installation and found that, under peak daytime heat conditions, the total heat transfer allowed down through attics can be reduced by as much as 40 percent, which can significantly reduce the load demand of an air conditioning system.
Design of your home also makes a difference: Whether it is a one-story or two-story home, the home's age, the type of roof, whether your roof has shade, your HVAC system's efficiency, the type of insulation installed and local energy rates all contribute to your potential for individual cost savings. If you are unsure how to install radiant barrier in your home, ask a home improvement expert..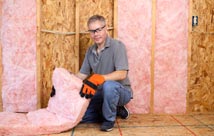 | | | |
| --- | --- | --- |
| | | Respond Home Improvement Directory lists the top Insulation Contractors in your area, organized by specialty and office location. |