Garage Additions: Garage doors can add history and style to a home

(ARA) - When George Vanderbilt and architect Richard Morris Hunt were designing the Biltmore house in the 1880s, they carefully planned for detailed craftsmanship in every aspect of the construction. When it was completed in 1895 in Asheville, N.C., Biltmore was arguably America's finest residential structure.
More than a century later, Biltmore retains its title as one of the most prominent and beloved homes from architecture's 19th Century Gilded Age. In 2007, Biltmore ranked eighth on the List of America's Favorite Architecture by the American Institute of Architects.
Approximately 1 million guests visit Biltmore each year, many of them leaving with a desire to replicate the structure's artistry and craftsmanship in their own homes. Now, they can.
Amarr Garage Doors is one of several companies offering Biltmore-inspired home products.
"The garage doors offered in our Biltmore For Your Home Collection capture the meticulous detailing and custom craftsmanship associated with Biltmore," says Vickie Lents, Amarr residential category director. "Like Biltmore House, the garage doors are distinctive, inviting to visitors, and built to last."
"The doors feature wood construction that can be painted or stained to match any home exterior," she says. "These charming doors replicate traditional, swing out carriage house door styles but open overhead like any other modern garage door. They're also energy efficient."
The best-selling garage door in the Biltmore For Your Home Collection, the R.H. Hunt, bears the name Richard Howard Hunt, the son of Richard Morris Hunt and Biltmore's architect for the Cottage on Biltmore Estate, a historical and exclusive overnight getaway that originally served as the residence of Biltmore's market gardener. The R.H. Hunt is joined by a group of five other doors reflective of Biltmore House's design and geography. Among the names of other garage doors in the collection are the Chateau, Swannanoa, Vanderbilt, Antler Hill and Amherst.
"The door designs are based upon actual doors on structures on Biltmore estate," Lents added. "The popular R.H. Hunt design is based on a door that can be seen in the courtyard of the Cottage on Biltmore Estate."
Homeowners often incorporate these doors into modern home architecture. The result is a contemporary house design that embraces classic design elements in the garage entrance as well as in other areas of the home.
For more information about Biltmore, visitbiltmore.com. To explore the Biltmore For Your Home Collection, visit amarr.com and click on "wood doors" under the residential section.
Courtesy of ARAcontent .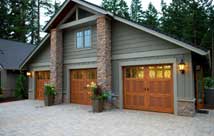 | | | |
| --- | --- | --- |
| | | Respond Home Improvement Directory lists the top Contractors in your area, organized by specialty and office location. |