Flooring Installation: Keeping your wood floor's natural shine

(ARA) - Wood floors are a beloved part of a home, and are also a great investment that can boost your home's value by up to $10,000, according to the Hardwood Information Center.
The wood care experts who make Murphy Oil Soap have some advice on how to keep your floors looking shiny and beautiful.
* The first key to maintaining your wood floors is to know what type of finish you have.
Most wood floors installed after the 1960s are finished with polyurethane, which hardens into layers of solid plastic sheets on the surface of the wood.
To find out, scratch the surface of the wood with a coin in an inconspicuous area. If the finish flakes off, a finish like varnish or shellac was probably used. If you think you have wax floors, apply a few drops of water and wait 10 minutes. If white spots appear under the droplets, then your floor has a wax finish.
A polyurethane finish will not flake after being scratched with a coin, and white spots will not appear after exposure to water droplets.
* A finish with a dull and lifeless appearance can usually be revived with a good cleaning to remove accumulated dirt. For polyurethane-finished floors, use a cleaner like Murphy Oil Soap for cleaning. To give your floors the best shine, make sure you follow diluting directions properly when using the concentrated version of Murphy Oil Soap.
* Other ways to help preserve your wood floor shine include regularly sweeping and vacuuming your floors weekly; placing area rugs in high traffic locations; using floor protector pads or soft felt on the bottoms of furniture legs; setting a humidifier or dehumidifier to maintain a level of 30 to 50 percent humidity in the home; and protecting your floors from direct sunlight.
Courtesy of ARAcontent .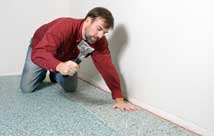 | | | |
| --- | --- | --- |
| | | Respond Home Improvement Directory lists the top Flooring Contractors in your area, organized by specialty and office location. |