Flooring Installation: Fast fixes for foreclosed homes

(ARA) The high volume of foreclosed homes on the market is allowing some astute buyers to turn eyesores into eye-catching properties with only minimal investment. While not every property can be fixed up affordably, there are some common projects that dramatically improve a foreclosed home's appeal and value.
"Many people are finding huge opportunities in fixing up foreclosures," says Tom Sullivan, founder of Lumber Liquidators, the nation's largest specialty retailer of hardwood flooring. "Most of these houses can be completely transformed with just a few improvements. Often, the fixes are easy enough to be do-it-yourself projects."
Here are some popular cost-effective options for breathing new life into a home in need.
Add new countertops.
The kitchen is one of the most important rooms in any home, since it is a space where people spend a lot of time - from cooking dinner to entertaining friends.
One of the most dramatic changes that can be made to a kitchen is adding new countertops. It alters the appearance of the space by changing the color scheme, depth and texture of the whole room.
Countertops range in price depending on room size, type of material and mode of installation. In an average kitchen, a new laminate countertop starts at around $1,000, with granite or quartz ranging from $3,000 to $6,000. Butcher-block countertops are another attractive, yet cost-effective option. Williamsburg Butcher Block Company offers options in both maple and American cherry starting around $310.
Replace the bathtub.
Foreclosed houses frequently come with water stains left by standing water in sinks, toilets and bathtubs. Updating a bathroom by installing a new bathtub not only removes the problem, but, because the tub is a core item, it creates a more pleasant feeling in the room. Bathtubs are available in many different styles and sizes, so there is likely to be one that suits any taste, from traditional to contemporary. Bathtubs start at around $300, depending on the size and style.
Trade carpeting for new wood flooring.
Foreclosed houses are frequently abandoned with soiled carpet that continues to gather buildup over time. Mold is also common in homes that have been left bare for extended periods. To get rid of hidden odors, allergens, irritants and mold, replace carpet with wood, particularly in high-traffic areas such as living rooms and great rooms.
In addition to reviving these common areas, swapping carpet for wood adds style and creates a more spacious feel. The choice of wood can also make a big difference. Light wood colors can make a room appear larger, medium-toned woods can make a room appear more traditional and dark flooring can make a room appear warmer.
"The introduction of so many new species, colors and types of wood flooring in recent years gives homeowners a lot of options when renovating a room at different price points," says Sullivan.
Laminate flooring can deliver the appearance of solid hardwoods, but costs less than $1 per square foot at places like Lumber Liquidators. This allows budget do-it-yourselfers the ability to transform a 400-square-foot area for as little as $750.
In addition to making a foreclosed home look new again, completing these easy and affordable updates can go a long way in restoring the value of the property when it comes time to sell.
Courtesy of ARAcontent.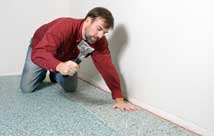 | | | |
| --- | --- | --- |
| | | Respond Home Improvement Directory lists the top Flooring Contractors in your area, organized by specialty and office location. |