Bathroom Remodeling: The ideal season to give your guest bath a makeover

(ARA) - The shorter days and cooler nights that fall brings mean entertaining that once took place on porches, patios and decks is slowly beginning to wane. Soon, family and friends will gather inside the home for holiday festivities, putting the spotlight back on some of the most-used rooms, one of which is the guest bath.
For most people, overnight house guests go hand-in-hand with the holidays. Rather than waiting until the last minute, when stress levels are already high, fall is the ideal time to begin preparing for company and refresh the guest bath. You can do a few simple things long before anyone arrives to ensure their stay is a comfortable one.
In fact, updating a tired bathroom can be an easy goal to achieve on any budget. You don't need tens of thousands of dollars. Instead, a little paint, the proper tools, a few decorating elements and some creativity will do the trick.
Color: light and inviting
Changing the color of a room with interior paint is the easiest, most cost-effective and most dramatic transformation that can be made. Since a guest bathroom can be one of the smaller rooms in a home, use colors that are light and airy. This will open up the space, making it appear larger than it really is. And, even if the guest bath is used by other family members during the rest of the year, remember that it should feel welcoming, so avoid stark whites or overly bright and trendy colors.
Most importantly, don't skimp on the painting tools. Since the walls will be the largest visual area in the bathroom, you want to ensure a professional-looking finish that can only be achieved using high-quality painting tools. Purdy's new mini-roller system will provide a flawless finish, and its compact lightweight design helps to paint tight spaces - like behind a toilet or above and around a sink -in less time with less mess.
Fine-tune fixtures
If you're considering replacing an old scratched sink, many acrylic options can be purchased at home centers for less than $100. While you're at it, don't forget to update the faucet as well. Today, faucets come in a variety of finishes like brushed nickel and oil rubbed bronze, allowing you to easily freshen up the appearance of your bathroom. Many fixtures are available with matching accessories like towel rings, bars and even robe hooks. Using a consistent fixture finish throughout the room will give the space a streamlined, uncluttered feeling and will help create a serene place for your guests to relax during their stay.
Hardware
Dated cabinet hardware can easily be brought back to life with a coat of primer and paint. If you're willing to use a little elbow grease and purchase an inexpensive can of spray paint, you can transform any dingy handle or knob. You don't have to stick to traditional paint color choices, either. There are a variety of metallic spray paints available such as chrome, copper, brass and satin nickel that mimic the look of these expensive finishes that you can coordinate with your other accessories and fixtures.
Details
With any room refresh, the difference is in the details, especially in a small space like the guest bath. Pick up some new linens before your visitors come to town - new bath and hand towels that are plush and soft, not faded or worn, can really make the room feel inviting. For an added touch, hang a new shower curtain and liner to coordinate with your new color scheme. Keep it a lighter color to allow natural or overhead light to filter through; you don't want your guests showering in the dark. Stock up on all of the essentials. From toiletries to a comfy robe, it's always a great idea to keep supplies on hand in case your guests need something.
By taking the necessary steps to prep your guest bath before the hustle and bustle of the holidays, you'll be able to relax and enjoy it right along with your visitors.
Courtesy of ARAcontent .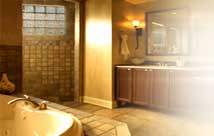 | | | |
| --- | --- | --- |
| | | Respond Home Improvement Directory lists the top Bathroom Remodeling Contractors in your area, organized by specialty and office location. |