Bathroom Remodeling: Ten tips for the perfect bathroom remodel

(ARA) - Giving an old, tired bathroom a makeover is one of the best things you can do to increase your home's resale value. And while it can take some planning, remodeling your bathroom is easily within the capability of most homeowners.
While bathrooms often are among the smallest rooms in your home, they're often the most used and valued spaces in our homes, and are among the smartest remodeling investments in terms of return of investment. Beyond the practical, day-to-day routines, for many people bathrooms are a sanctuary - a place to escape the stresses of daily life, even if only for a few moments at a time.
However, since most homeowners are working with small spaces and because there is a fair amount of water involved (sink, toilet, shower and bathtub), there's a lot of potential for a bathroom remodel to go horribly wrong. Here are 10 tips from The Tile Shop, one of the nation's largest tile retailers for do-it-yourselfers, on how to create the bathroom of your dreams:
Get ideas
. Start with a visit to a premium tile or cabinet store that offers bathroom displays showing the latest in bathroom design, including the use of floor, wall and shower materials such as floor tiles, stone and granite, as well as bathroom fixtures such as lights, cabinets, toilets and tubs.
Another great place to get ideas is to visit model homes to see the latest in bathroom design from today's homebuilders.
Have a plan. Whether your bathroom remodel involves some light fix-me-ups or is a down-to-the-studs project, it's important to consolidate your ideas and create a remodeling plan and a budget. If you're going to remodel it yourself, don't be afraid to get help and seek out information on the latest in remodeling standards. For example, The Tile Shop offers how-to videos on its web site, www.tileshop.com, and offers hands-on seminars at its stores.
Bring it up to code
. Check your town or city's website to review or download building code requirements related to bathrooms - in particular codes related to plumbing, electrical and windows. Remember, building codes mean meeting the minimally allowed standards required by your city or state. It may not matter now, but it can be a big deal when you try to sell your home. Spending the extra dollars to bring your bathroom up to at least code, especially in the areas of electrical and plumbing, versus doing simply cosmetic changes, will bring peace of mind, enhance resale value, and avoid problems down the line.
Include popular features
. Including popular features in your bathroom remodeling project will help at resale time, and make your bathroom feel more contemporary. Second sinks, decorative glass and stone tile and accents, replacing tubs with showers, more storage space, better lighting, extra-wide wall tiles, and heated floors are among the most popular features in today's new home construction and upscale remodeling projects.
Make it easy to clean
. No one likes cleaning a bathroom, so why complicate matters by making it difficult to clean? For example, avoid vanities with space underneath the cabinet that attracts dust. Don't place vanities, toilets and other items too close together to create tight spaces that are difficult to clean. Use large wall tiles to eliminate grout lines. Invest in shower doors that keep water in a shower or tub and don't show soap build-up. Consider adding storage to free up valuable counter-top space.
Keep it elegant
. Your bathroom is not the place to express your secret passion for Star Wars with movie-themed wallpaper. Focus on using materials and fixtures that exude quality, offer an intimate, contemporary feel, and are timeless. To create an elegant look, consider downscaling a crowded full bath to a comfortable half-bath; mix tile textures, sizes, colors, types (natural stone, ceramic, porcelain, glass); and embrace neutral colors and whites.
Water is the enemy
. Water and moisture are the greatest enemies of a bathroom. Make sure to adequately ventilate your bathroom to vent steam and humidity generated from showers. Add a window, if possible, and replace an old fan with a more powerful, quieter version. Replace traditional sheetrock with water-proof cement board and use tile and stone materials to further reduce the risk of water damaging wood.
Enough light
. Out of all of the rooms in our homes, it's in the bathroom where we take care of our grooming needs as well as life's little medical emergencies. When remodeling, pay close attention to the lighting of your bathroom and if necessary, add more lighting options, especially around the vanity to reduce shadows and glaring.
Make it safer
. Slick surfaces in a bathroom pose a serious risk for falls. Shower stalls and bathtubs should be outfitted with slip-resistant finishes on floors, rubber mats, and grab bars. Consider rounded counter-top finishes versus corners with sharp edges. And keep electrical outlets away from water, such as bathtubs.
Make it greener
. Green is in and is here to stay. When remodeling your bathroom, consider using fixtures that save water, replace old windows with new energy efficient windows, and consider counter tops and flooring made from recycled materials, such as recycled glass mosaic tile. Natural stone products act as a natural insulator -- keeping cool in and hot out during the summer, and keeping your bathroom warmer longer during the winter.
Courtesy of ARAcontent .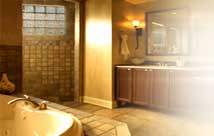 | | | |
| --- | --- | --- |
| | | Respond Home Improvement Directory lists the top Bathroom Remodeling Contractors in your area, organized by specialty and office location. |