Bathroom Remodeling: Four fast, fashionable and fabulous home fixes anyone can do

(ARA) - When it comes to home improvement, you don't have to be a professional to get professional-looking results. Many simple projects can dramatically update your home and are easy enough for even the novice do-it-yourself-er.
Start by choosing one of the smallest rooms in your home that you use every day - the bathroom. With these four fast fixes, you'll achieve fabulous results that are shockingly easy.
Vamp up your vanity
Just by its name, the bathroom vanity should exude beauty to make a style statement in your bath. However, if your current vanity features chipped paint or a dated color - it's time for an update.
Rather than buying new, you can easily make your current vanity look clean and fresh with a coat of paint.
To prep for your project, remove the doors and drawers, tape off any areas that you don't want painted and wipe down everything with soap and water. For the transformation, spray a primer over the cabinet surface and apply several light coats of an indoor/outdoor spray paint in your favorite color. Once everything is dry, install the doors and drawers for a brand new look.
Time: two to three hours
Don't fear your faucet
While anything that has to do with plumbing seems overwhelming - don't fear. Updating your bathroom faucet is a fairly simple project that can dramatically update the look of your updated vanity. To start, determine whether your sink or countertop requires a centerset (one-piece) or widespread (handles and spout are separate) faucet.
Once you know the type of faucet you need, manufacturers, such as Moen, offer a wide selection of style and finish options to meet your design desires. The Banbury Collection, available at the Home Depot, offers a traditional design in both low- or high-arc versions and in stylish finishes, such as Chrome, Brushed Nickel and Mediterranean Bronze.
To install your faucet, be sure you have the proper tools. Then, just follow the manufacturer's directions to remove the old faucet and install the new. For extra help, websites, such as moen.com, offer step-by-step bathroom design videos to walk you through the simple process.
Time: one and a half hours
Swap out your showerhead
Once you've mastered swapping out the faucet, changing your showerhead will be a breeze. In fact, the most difficult part may be choosing your new showerhead. At retailers, such as The Home Depot, you'll find a variety of luxurious, yet inexpensive, options. Moen's Banbury line features seven new options for any showering preference, including a five-setting wallmount showerhead, a five-setting hand held showerhead and a five-setting combination that includes both hand held and wallmount showerheads that can be used separately or together.
Once you've chosen the showerhead to meet your needs, use a wrench to loosen the current showerhead, remove and attach the new showerhead.
Time: less than 30 minutes
All about the accessories
One of the easiest ways to add a decorative touch and functionality to the bath is with accessories, such as towel bars, towel rings, robe hooks, tank levers, shelves, soap and toothbrush holders and even curved shower rods. Luckily accessories are simple to install and there are many lines available to perfectly match or complement your new faucet style and finish.
The key to proper installation of accessories is ensuring a secure grip to the wall. This is achieved by attaching the accessory's mounting plate with at least one mounting screw into a stud - and support the other by using a hollow-wall fastener, such as a molly bolt. Once you have the mounting plates in place, simply attach the accessory and tighten the set screws.
Time: one and a half to two hours (depending on number of accessories installed)
While you may not currently feel like you're a handyman or ma'am - these four fast fixes really are simple enough for a novice. And, by doing it yourself, not only will you save money, but also gain a sense of pride that will encourage you to accomplish other projects around your home.
For more information about the Banbury Bathroom Collection from Moen, visit moen.com or homedepot.com.
Courtesy of ARAcontent .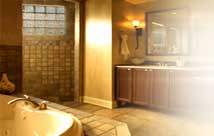 | | | |
| --- | --- | --- |
| | | Respond Home Improvement Directory lists the top Bathroom Remodeling Contractors in your area, organized by specialty and office location. |