Bathroom Remodeling: A getaway for every day

(ARA) - Who doesn't need a break from the hectic day-to-day routine once in awhile? A recent study by the American Psychological Association found that we are more stressed than ever, with nearly 75 percent of Americans experiencing moderate to high stress levels. With time and money as major obstacles, it's difficult for many people to take regular vacations to escape their busy, everyday lives. But with a little time, budget and creativity, an ordinary bathroom can be transformed into a luxurious, relaxing escape for an everyday getaway.
Spacious showers
The central feature of any bathroom is the shower or bath. Enlarging a cramped shower space does not have to entail an expensive overhaul.
By installing a curved shower rod, you will add up to 7 1/2 inches of elbow room to your space and feel like you have an oversized, lavish shower without adding any square footage. Moen offers both fixed- and adjustable-length curved shower rods with pivoting flange to make installation a breeze.
Make the most of a mirror
Almost every bathroom has at least one, but a simple addition to your mirror can take the room from ordinary to extraordinary. Framing a mirror is a quick and easy way to draw attention and give any room a luxurious, hotel-like feel. Moen offers a variety of frame styles with its easy-to-install Mirrorscapes Mirror Frames line, allowing any DIYer to customize and create a new look. With Mirrorscapes' unique installation system, even the most inexperienced homeowner can recreate a room in less than 30 minutes.
Storing in style
Storage space might not seem like the most glamorous part of a room, but choosing unique organization accessories can make all the difference in your bathroom's makeover. The Banbury bathroom collection (available at The Home Depot) offers functional accessories such as bathrobe hooks, soap dispensers, towel bars and rings, and paper holders in a wide variety of finishes and styles to coordinate with the other items in your bath. Decorative Hotel Shelves, also from Moen, are another option available in today's popular finishes and unique designs to add a hint of luxury to the bathroom while providing maximum storage for linens and towels. These small details are a quick and easy way to give your bath a high-end look while maintaining functionality.
Soothe your senses
It's the little things that make the biggest difference, and there are many ways to enjoy the indulgent atmosphere of a hotel spa at a fraction of the cost. Pamper all of your senses with bathroom extras such as scented shower gels and lotions, oversized cotton towels and aromatherapy candles. Even a simple coat of paint in a relaxing shade like "Soul-Quenching" by Dutch Boy can make a dramatic difference and help create a calming, stress-relieving ambience. Pop a soothing CD into your Sony ICF-CD73V Shower CD Player/Clock Radio and your haven of relaxation is complete.
Everyone deserves time away from the stress of today's world, and with a few simple changes you can transform your everyday bathroom into an organized, relaxing daily escape. For more information on how Moen bath accessories can help you create your own room of relaxation, visit www.csi.moen.com.
Courtesy of ARAcontent.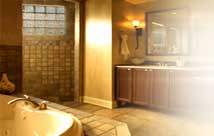 | | | |
| --- | --- | --- |
| | | Respond Home Improvement Directory lists the top Bathroom Remodeling Contractors in your area, organized by specialty and office location. |