Window Replacement: Make a home remodel work for you

(ARA) - The home remodeling industry is seeing an upswing, according to a Harvard University study released earlier this year, as many homeowners opt to make various upgrades to their homes instead of moving from one home to another. The challenging economy, coupled with increased interest in energy efficiency, is fueling greater demand for home products that deliver performance and savings as well as style.
"A home should be a haven: comfortable, stylish, low-maintenance and easy on the bills," says Erik Jarnryd, co-chairman and CEO of Harvey Building Products (www.harveybp.com). Harvey manufactures windows, doors and patio rooms and offers a range of products used in energy-efficient homes throughout the Northeast. "In an economic environment where the return on investment is as important as the look of your remodeled space, pay attention to products that protect your family from outdoor elements - housewrap, insulation, windows and doors - because they not only contribute to the look and feel of your home, their efficiency will help lower utility bills and in some cases provide you with a federal tax credit."
So how does one find stylish, high-performance home products that deliver savings? Jarnryd offers advice for approaching the selection process: "Prioritize your needs.
If you have to meet a certain budget, stay focused on value, but don't forget to consider long-term savings from energy-efficient options that deliver tax credits, too. If you want maximum performance, look at the thermal and structural performance values. Finally, if your remodel is driven by a specific style, find a company that offers a range of options so you can compare and contrast easily."
For instance, if your remodeling project includes windows, you'll want to weigh the features, benefits and costs of wood, fiberglass and vinyl. If leaning toward vinyl windows, demand 100 percent virgin vinyl with multi-chamber construction for greater sill strength. In addition to a high level of performance and easy care, vinyl also offers a wide range of colors, including Harvey's new, innovative BetterGrain finish, which mimics the look of authentic wood through a revolutionary painting process. The finish is featured on Harvey's premier Tribute line, which is Energy Star-qualified and eligible for federal tax credits.
For the performance-minded, consider vinyl windows that offer a low U-Factor to diminish heat transition. Or, if you choose wood windows, look for models with exterior aluminum cladding for improved weather protection and efficiency. Keep in mind that the Energy Star program helps homeowners more easily identify products for maximum performance. With features like Low-E glass, and Argon gas between panes, Energy Star-qualified windows can save you up to $465 in energy bills on an annual basis, according to the U.S. Department of Energy. In addition, windows with a U-factor and SHGC of 0.30 or less qualify for a federal tax credit in all 50 states.
Jarnryd offers one final piece of advice: "Homeowners should make sure they're dealing with companies that deliver proven expertise and solid warranties." For example, Harvey's recently introduced Climate Defense System comes with an unprecedented 20-year warranty on this combination of housewrap, windows and insulation in a weather-resistant, energy-efficient home "envelope." "Confidence in the finished product means peace of mind during the renovation and for years after," he says.
Homeowners' final decisions, of course, depend on a unique balance of all three elements - style, performance and savings. Whatever your priorities, knowing what to look for will help you find the right products for your particular home remod.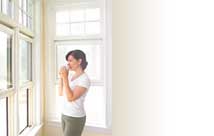 | | | |
| --- | --- | --- |
| | | Respond Home Improvement Directory lists the top Replacement Window Contractors in your area, organized by specialty and office location. |